This is the Day the Lord has made. Let us rejoice and be glad in it!
Because of the weather, we are cancelling the following:

Bible study Tuesday,
Band Wednesday,
Board meeting Wednesday.

Please follow in discussion in our app messaging for real-time updates. Emscchurch.org/app
East Main Street Christian Church is a place where people can meet Jesus, engage in life-giving community, and everyone is welcome. We believe in creating a space where people can have authentic encounters with Christ, discover their gifts and use them for God's glory. Join us for our Sunday services!
Happy New Year! We are looking at the theme for this year. When you think of 20/20, it's easy to think of vision--seeing clearly. That's exactly what we intend to do as a church this year.
9:30 Contemporary -- 11:00 am Traditional
We are back in-person! Live Streaming will continue as usual.
9:30 a.m. Service will be both in-person and live-streamed!
11:00 a.m. Service is in-person only.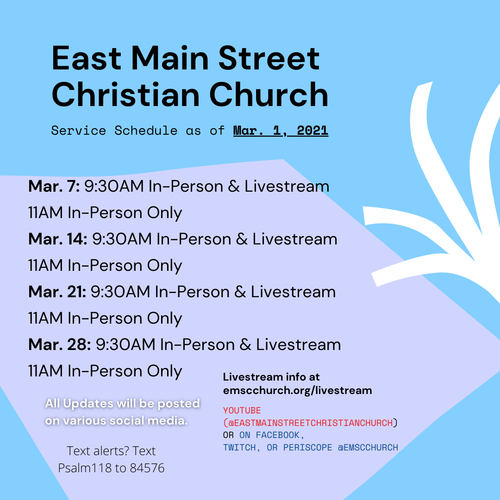 In March, our goal is to raise money for Mission Trip Grants.

Twice a year in January and July, we send mission teams to Freedom International School in the Dominican Republic. The cost is approximately $1,200 per person, depending upon airfare. The Money we raise in our March Mission offering will be used as grants to enable more people who would like to serve but are unable to pay the full cost to go on a mission trip.

We would appreciate any and every bit of support in doing so.