This is the Day the Lord has made. Let us rejoice and be glad in it!
East Main Street Christian Church is a place where people can meet Jesus, engage in life-giving community, and everyone is welcome. We believe in creating a space where people can have authentic encounters with Christ, discover their gifts and use them for God's glory. Join us for our Sunday services!
Happy New Year! We are looking at the theme for this year. When you think of 20/20, it's easy to think of vision--seeing clearly. That's exactly what we intend to do as a church this year.
9:30 am Contemporary & 11:00 am Traditional
We are streaming at 11:00 am only through the rest of December.
You can find the livestreaming of our 11:00 a.m. service on various platforms.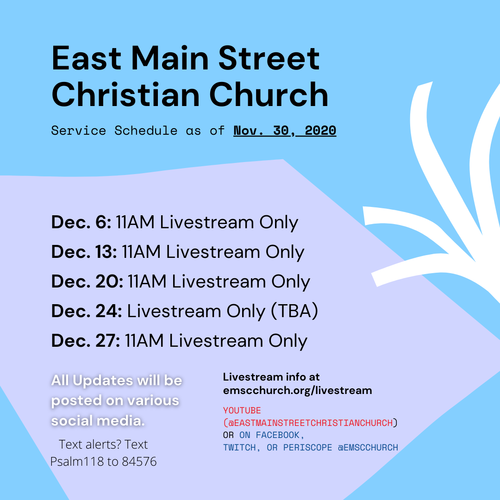 UPDATE: Due to the number of church staff and volunteer absences, we will be moving to a live-stream only schedule for the
rest of the year (December 2020). All other activities are canceled for those Sundays. Please follow us on Facebook and Twitter @emscchurch for real-time updates.
The live stream for these Sundays will be at 11 a.m.

Thanks for your understanding. Be safe.
Christmas for Elwood Food Boxes
We are helping with the Christmas for Elwood food boxes. We have purchased 450 cans of green beans and are giving you the opportunity to help us replenish the funds. We usually take up a collection of food directly, but since we're not meeting, we figured this would be easier. Thank you for your support.